Connecticut Compressor Systems Inc. is a company that specializes in the design, installation, and maintenance of compressed air systems.
About Us
Located in Central CT, Connecticut Compressor Systems, Inc. is a family owned and operated business equipped with state-of-the-art technology and the knowledge capable of meeting and exceeding your air compressor related needs.
Let's Discuss Your Project
Preventative and Emergency Compressor Maintenance
Air Leak Audits for Energy Efficiency
Energy Efficient Machinery Installation
Refrigerated Air Dryers (Air Treatment)
Nitrogen Generation Systems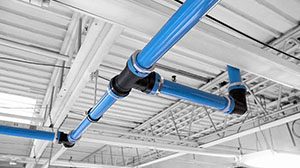 Air Piping, Plastic Coated Aluminum Pipes
Compressor Install
This is a complete system install for a local customer, to include variable speed compressor, refrigerated air dryer and 240 gallon air receiver.
Hycomp Overhaul
These pictures show the top end overhaul of an oil/less compressed air booster. The entire top end was removed valves were rebuilt new piston rings installed and new oil scrapers and packings installed before being reassembled and having oil and oil filter service.
VS40 Shaft Seal Repair
These pictures show the process of removing and replacing the shaft seal on a Gardner Denver vs 40 air compressor.